Paddy Flaherty's Story
---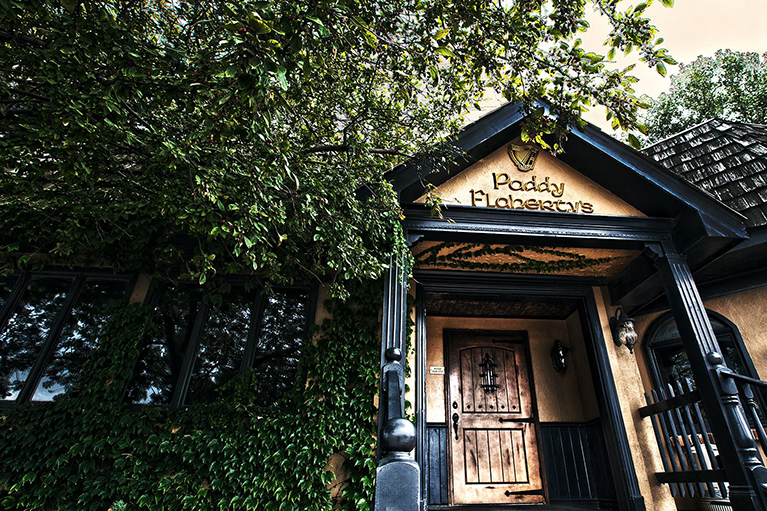 Paddy Flaherty's was established in 1996. At Paddy's you can expect the best in both food and drink in an amazing atmosphere. Owners Scott Dargie and Angela Smoldersstarted working at the pub in 1999, and purchased it four years later. "This location feels like it has always been an Irish Pub. One of the things about pubs anywhere in the world is that they all look and feel old. When I first walked into this location, it was comfortable. It felt like home," explains Dargie. Paddy's isn't only a restaurant and pub, it's also a premier local music venue. "It's a way to see a big Canadian act in an intimate setting," adds Smolders.
Dargie moved to Lambton County from the Toronto area and was already working in the restaurant industry. "I grew up in the GTA and didn't intend on staying in Sarnia. I not only fell in love with the pub, I fell in love with Sarnia. It's a great place to live and raise a family." Dargie and Smoldersco-parent their kids, Ben and Arwen. Since taking over the operation, they have made some significant changes to the look and function of the building. "The patio has really changed and we used to have a cigar room, Karaoke and hosted more Celtic bands. The music scene has really progressed over the years, with different acts, in many musical genres," says Smolders.
The evolution of the patio has allowed the pair to host more guests and live music. "It used to have a bar, and we try to forget that old wood fence," says Smolders, with a laugh. The patio now boasts not only a great view of the water, but a large stage to host larger acts. "We built the stage for our 10th anniversary when Enter the Haggis played. The indoor stage was expanded when we needed to accommodate Five Alarm Funk," adds Dargie. Customers have had the pleasure of seeing Current Swell, The Sheepdogs, Elliott Brood and Red Wanting Blue. "We've also had the Sadies, Tom Wilson, Shred Kelly and the Strumbellas play here. Some really familiar faces are Pat Robitaille and Daylight for Deadeyes," says Smolders. If you've heard a Canadian band on CBC Radio, they have probably played at Paddy Flaherty's.
From ship christenings to St. Patrick's Day celebrations, the staff are kept very busy, serving up delicious food and anyone of their 25 beers on tap. "We have up to 55 staff working during peak summer months. Some staff have been with us for a long time, including our chef, Lynne Cotton, who started in 2001," says Smolders. "Everything is made fresh daily. We have a talented group in the kitchen. They have been together a long time, and Lynne is amazing," adds Dargie. The menu includes a variety of Irish-inspired and North American classics. You can join them for lunch, dinner, and late-night snacks. "We have a lot of regular customers, including out-of-town guests, and we really appreciate their support. We are a big family, working together to provide a really good experience, and lasting memories," says Smolders.
---